Measuring Life at the Threshold of Unknowing
Kendall Baker´s interdisciplinary art-science project "Measuring Life at the Threshold of Unknowing" sought to gain insight and pose questions about (un)knowing by bringing together both artistic and scientific practices.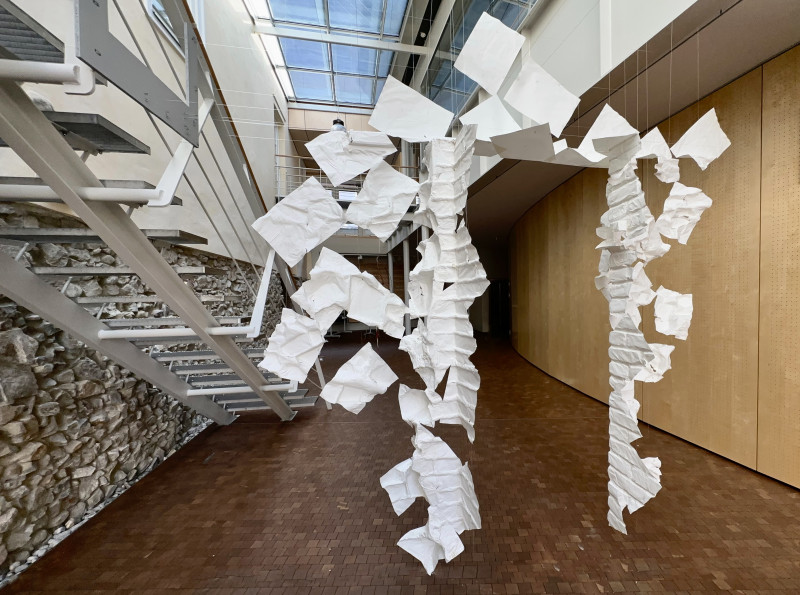 The artist explored the space between direct knowledge and the limits of knowing- the threshold of unknowing. For Baker it is this space where questions emerge, inspiring the creative work of artists as well as scientists. Underpinned by this rich conceptual framework, which emphasises the importance of the unknown as a creative moment of knowing, Baker chose shape and measurement as epistemological tools to reveal different kinds of relationships. To explore this threshold, he used the old and new parts of the building as a starting point for interacting with the space.
The KLI residence, with its impressive history and architecture, proved to be a nurturing space for his artistic practice. Baker responded to the multivarious thresholds he found in the building's history, materials, and architecture, as well as the spirit of inquiry and openness at the KLI. He connected these with epistemological thresholds he encountered through measuring and mapping the space. The result was a transformation of the connecting space between historic and new parts of the building by measurement, paper, and object studies.
The artist was embedded in the institute over a period of four months which allowed for a special collaboration with the KLI fellows. Baker related his artistic practice to the fellow's scientific research by conducting interviews with the fellows to learn about their backgrounds, orientations, and what nurtures their creativity in research. The conversations about how the fellows encounter the territory of unknowing and how they contend with the space between knowing and unknowing developed into a hands-on collaboration in which the fellows were invited by Baker to create certain parts of his site-specific installation. The fellows took part in measuring the doorway that connects the building's 14th-century foundation to the newly build open space. The doorway was covered with sheets of wet paper, that, when dried, retained the shape and contours of the doorway. The result was an intricate three-dimensional paper sculpture suspended from the atrium at the heart of the KLI, a threshold in itself, that emphasises and articulates the open environment of the KLI, bringing the visitors into an awareness of the space.
Baker's thought-provoking exhibition highlighted the importance of interdisciplinary collaboration in pushing forward our understanding of the world and the value of artistic and scientific approaches in mediating observations and measurements. The project was an affirmation of the institute's mission and proved to be an enriching experience for the KLI fellows, both as people and as researchers, that will have a lasting impact.
Visit Kendall´s website for more information or watch the short movie about his project.